Alfred Mylne II (1918 - 1979)
Alfred Mylne I left a notable legacy in the realm of yacht design, but it was his nephew, Alfred Mylne II, who would bear the mantle of the family firm upon his return from the Second World War. Serving with distinction in both artillery and the Commandos during the war, Alfred II stepped into a world where the mastery of yacht design ran in his veins, despite having no formal training as a naval architect.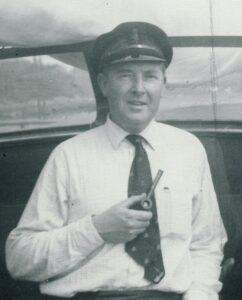 Alfred Mylne II's natural eye and innate aesthetic sensibilities were unmistakable, manifested in the array of beautiful yachts that were conceived from his creative mind. His dedication was apparent as he single-handedly managed the design office for 13 years, often crafting half models of the yachts he envisioned, ensuring perfection in design from every conceivable angle, with minimal assistance from his aging uncle who had weathered the tumultuous times of two World Wars.
A pivotal moment came in 1959 when Mylne suffered a heart attack. This event led to a significant partnership with Ian Nicolson, allowing Mylne to focus on managing the boatyard and nurturing a few select designs, while Nicolson contributed to expanding the design repertoire.
Alfred Mylne II's journey was marked by his unwavering commitment, artistic intuition, and a relentless pursuit of nautical excellence, honoring and elevating the Mylne legacy in the sphere of luxurious yacht design.