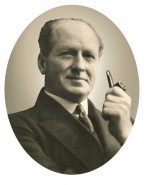 Alfred Mylne (1872-1951) was one of the most successful yacht designers of his generation. Apprenticed to the famous George Lennox Watson, he became close friends with illustrious rivals including William Fife, Uffa Fox and Olin Stephens. Mylne was instrumental in establishing one of the most celebrated and successful rating systems in yachting history, the International Meter Class Rule, a success which owes itself in great part to Alfred's philosophy on yacht design.
Starting his yacht designing career with G.L. Watson in 1892, the young Alfred took an early interest in the trend at the time for "plank-on-edge" racing yachts. These narrow beamed yachts relied on heavy lead keels to maintain stability. Tremendous forces ran through the rigging into these narrow beam craft and led to some infamous cases of yachts being lost at sea. The rating rule of the time encouraged the development of these unseaworthy craft, and moreover these yachts with their deep keels and lack of interior volume had little use as cruising yachts following their short racing careers. It was against this backdrop that Mylne established his design philosophy of Grace, Pace and Space:-
Grace - A yacht is an expression of a yachtsman's soul, and needs to inspire both at speed and when sitting quietly on a mooring, therefore it must look good from all angles.
Pace - Yachts should be swift and handle well so as not to tire the helmsman and crew, and deliver them without undue delay to their destination.
Space - A yacht should be built to last "50 years" - in other words a racing yacht must be able to be used for cruising after its racing life is complete, and therefore must have useful interior volume.
Inspired by Mylne, the international rule established in 1906 not only established a rating system, but also included requirements for strength (all yachts were required to comply with minimum structural scantlings established by Lloyds Register), and the larger yachts had minimum requirements for interior accommodation for owners and crew.
In 1912, Alfred's brother Charles opened the family yard "Bute Slip Dock" on the island of Bute, providing Alfred with a dedicated outlet for his design talents and a place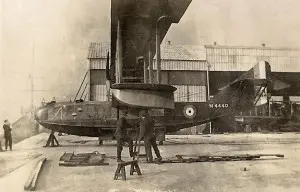 where new ideas could be developed. Such was the prestige and success of the yard and its superbly trained craftsmen that it was given over to the construction of seaplane hulls during the First World War. These flying boats required intricate work and highly skilled craftsmen. The new techniques and new materials employed during the war years were later used with great success (balsa cored plywood interiors for example) in subsequent yacht builds - a philosophy of innovation and applying new technologies that still inspires our company which continues the Mylne name today.