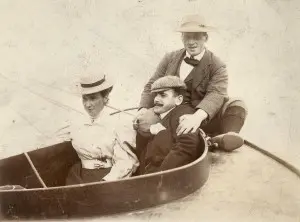 In 1888, a 16-year-old Alfred Mylne commenced his illustrious career in the maritime world as an apprentice at the esteemed Scottish shipbuilders, Napier Shanks, and Bell. Despite his foundational experiences, it was his fervor for sailing that led him to the pioneering yacht designer, George Lennox Watson, in 1892. Serving as a draftsman, Mylne contributed to the creation of iconic vessels like the Royal Yacht Britannia, Valkyrie II, and Valkyrie III, manifesting his early influence on legendary ships and defining competitions like the America's Cup.
However, Mylne's ambition transcended the boundaries of an apprentice. By 1896, Mylne had established his own design office, laying the foundations for what is possibly the world's oldest yacht design business still in existence today, a legacy that outlives him, marked by elegance and innovation.
Mylne's journey was interlaced with both accolades and rivalries. He was pivotal in devising the International Metre Rule in 1906, leading to the conception of numerous winning yachts, marked by the unprecedented success of the 19-metre cutter, "Octavia". His designs, renowned for their elegance, attracted commissions for cruisers, racing dinghies, and commercial crafts of diverse magnitudes, solidifying his reputation as a versatile designer.
In 1911, his journey took a pivotal turn as he acquired a yacht-building yard with his brother Charles, overseeing its operations until his retirement in 1946, passing the torch to his nephew, Alfred Mylne II. Mylne's resilience and adaptability were evident as he navigated the design office and yard through the tumults of the World Wars, creating crafts for the Royal Navy and components for the Royal Naval Air Service's flying boats.
In 1888, at the age of just 16, Alfred Mylne was apprenticed to the famous Scottish shipbuilders, Napier Shanks and Bell. However his passion for sailing drew him inexorably towards the lion of yacht design, George Lennox Watson in 1892. Working as a draftsman, he was involved in drawing up the plans of the Royal Yacht Britannia and Valkyerie, the 1892 America's Cup challenger for Lord Dunraven. by 1895 he was once again drawing up Lord Dunraven's final America's Cup Challenger Valkyerie III, indeed he crossed the Atlantic with Watson for the event. This precitiated a fued between Watson and Mylne that was to continue for decades to come.
Mylne set up his own office in 1896, which almost certainly makes the firm that still bears his name the world's oldest yacht design business in continuous production. Mylne immediately established a reputation as a designer of winning yachts, and was one of the people behind the most successful yacht handicap rules of all time - the International Metre Rule. This rule was devised in 1906 and in the following years Mylne designed a wonderful collection of winners in various metre sizes up to the remarkable and successful 19 metre cutter "Octavia".
Mylne designs were always admired for their elegance, and this was one of the attractions that drew owners to commission cruisers of every size from his design board. He also produced One-Design classes and racing dinghies, launches and some commercial craft. In 1911 he bought a yacht building yard with his brother Charles and ran it himself until he handed it over to his nephew, Alfred Mylne II in 1946 when he retired. Mylne ran the design office and yacht yard through both World Wars, producing craft for the Royal Navy as well as major components of flying boats for the Royal Naval Air Service.