Mylne ownership - being part of a very special family.
Rooted in Scotland, Mylne yachts are recognised around the world for their pedigree, their great looks, their sailing ability and sea kindliness. Some say they are like a Fife, but better. Others that they are like a Nicholson, but faster. And when Watson stopped designing sailing yachts, Alfred Mylne took over. Raced successfully against Herreshoft, Paine, Oertz and many others, Mylne yachts have been at the forefront of great design and technical innovation for over 100 years. Followed with a passion by an army of fans and previous owners with the fondest of memories, Mylne yachts are once again being recognised as the finest examples of post Edwardian yachting elegance to be had.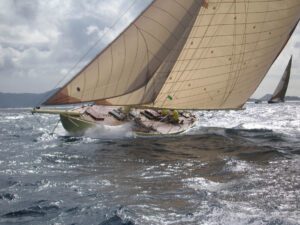 New designs are being drawn up using classic Alfred Mylne design methodology such as our Bolt 18 electric tender and others we can't yet talk about. Existing designs are now available for recreation for that truly authentic classic thoroughbred yacht. We look forward to welcoming you to the Mylne family soon.